By Kara Miller
I'm skeptical when I hear people talk about life-altering, perspective-shifting experiences. I'm especially skeptical when these experiences are brief. That semester changed my life. Or, That week made such an impact on how I view the world. Those statements just seem hollow to me somehow. So, when I came home to tell my roommate that I had just experienced one of the most powerful and transformative two hours of my life, I recognized the incredulous face looking back at me.
This two-hour experience was a Poverty Simulation organized by Crisis Assistance Ministry. A Poverty Simulation is a facilitated immersive experience designed to create awareness among participants of life at the bottom rung of the economic ladder. Participants are assigned to "families" who do their best to survive week-to-week over a simulated one-month period. The simulation presents participants with real-life scenarios and challenges faced by people living in poverty.
The concept didn't seem foreign to me. I grew up playing simulation computer games like the Oregon Trail. I figured I was pretty decent at guiding my party of settlers from Missouri all the way across the Oregon Trail in 1848, so navigating a month in current-day America shouldn't be too much of a challenge.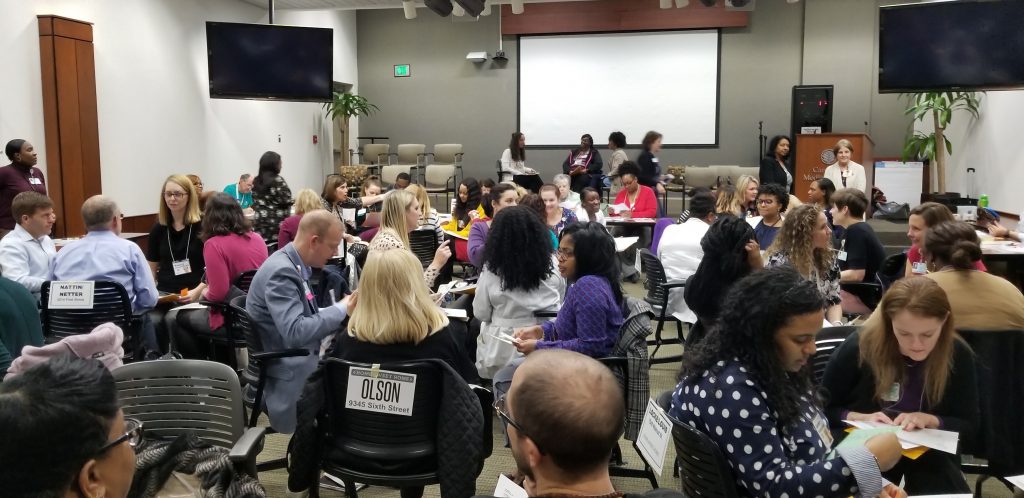 On the day of the simulation, chairs in the gym at Providence Presbyterian were organized in clusters representing different houses, and tables were stationed in a large square around the room with signs like, "Bank," "Utilities," "Pawn Shop," and "Homeless Shelter." Volunteers were already in position behind the tables while participants descended on the chairs that determined our characters and sorted us into families.
In my seat, a nametag read: Betty Boling, age 39. I felt a small twinge of stress as I looked around my family's nametags to see my three children aged 8, 10 and 16 (the 16-year-old pregnant and due in two months), and my unemployed husband. The twinge pushed forcefully into my upper back as I discovered my $9/hour salary wouldn't even come close to covering our growing family's bills.
The facilitator explained we would be attempting to make it through one month as a family, that each 15 minutes would represent a week, and that during our three-minute weekends, all businesses would be closed. Feeling the sweat start to form, I clumsily, hastily, frantically shuffled through all the documents I needed to take to different service providers as I thought: "Can I make it to the grocery store before work?" "Where does my husband need to go to get a job?" "Can my pregnant daughter get my other children to school?" "If I can't pay all our utilities, which ones can we go without?"
Thoughts that, as a single 26-year-old, I have never had to think in my life. Questions that I didn't have the time or knowledge to answer.
As I sprinted through the simulation, each weekend came sooner than anticipated and brought notice upon notice upon notice of the tasks I had failed to complete. After our second week, I failed to pay our mortgage (I'd left the bank with just enough money in hand only to be met with the closing bell as I came to a sliding stop in front of the Mortgage Company), and we were evicted. When we realized there was no room for us at the homeless shelter, it was my 16-year-old (a real-life 39-year-old mother) who suggested we sleep for the night in our family car. A car that was a huge luxury in our neighborhood.
Over the course of the simulation, we had more luck. My employer released us early one day and I was able to run the errands I needed to get by for that week. My husband was able to find employment after the first week, which almost doubled our family income. The cop who caught my kids running around when they were supposed to be in school decided not to arrest them. But, even with the luck of the draw, I could feel my normally bubbly personality slowly slipping away. I didn't have time or energy to smile at the service providers; I was doing well to just get what I needed and get out. I didn't have the time or energy for my kids; my daughter started dating a drug dealer and I had absolutely no idea. I didn't have the time or energy to do anything other than barely–barely–get by.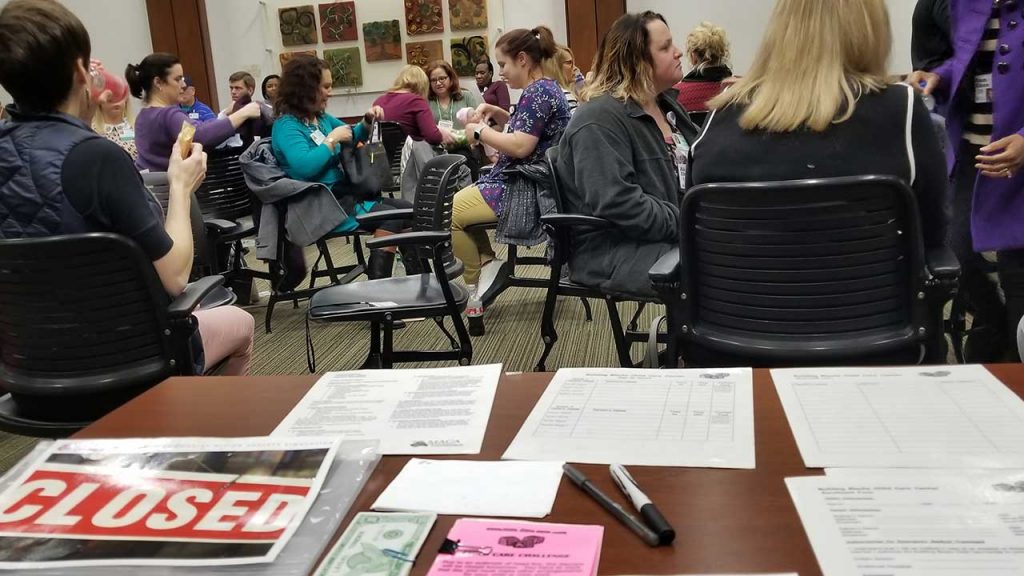 When the final bell rang, I could have cried. For the first time since the simulation began, I let myself feel how tired I was. I became aware that I was sweating and hungry and scowling. After just an hour walking in Betty's shoes, I felt such a relief to just be done. With the ringing of a bell, I was 26 again and 5,000 pounds lighter.
After the exercise, we debriefed as a group. We reflected, discussed insights, and considered next steps. One gentleman noted how pure desperation made it easy to think only about yourself. Another woman whose simulation experience ran parallel to her own life appreciated the accuracy of the hour. We all nodded when the facilitator summed up the greatest takeaway of the afternoon: "It's the system that is broken; not the striver."
Thanks to Crisis Assistance Ministry, I experienced one of the most powerful, impactful, and transformative two hours of my life. I don't look at the world the same way. I don't see people the same way.
Incredulous? Try it yourself.
Sign up for our next open enrollment Poverty Simulation session, co-hosted by the Charlotte Women's March and Habitat for Humanity Charlotte on May 9, 2019.
---
Kara Miller joined the staff of Crisis Assistance Ministry in April. As part of her employee orientation process, she participated for the first time in the agency's Poverty Simulation, an education experience created by the Missouri Community Action Network which deepens understanding of the realities facing families living in poverty.