For 10 years, Elevation Church has been bringing volunteers face-to-face with the community's need through LOVE Week, a full week of service across the cities and communities where they worship.
Here at Crisis Assistance Ministry, 2019 brought 530 volunteers to participate in 33 volunteer events. Together, teams of volunteers ages 5 and up:
served 2,000 meals to waiting customers,
assembled 1500 welcome kits for children awaiting services,
put together 75 fleece blankets for store customers,
built 13 dressers for neighbors overcoming homelessness,
and inspected and prepared thousands of items of clothing and household goods.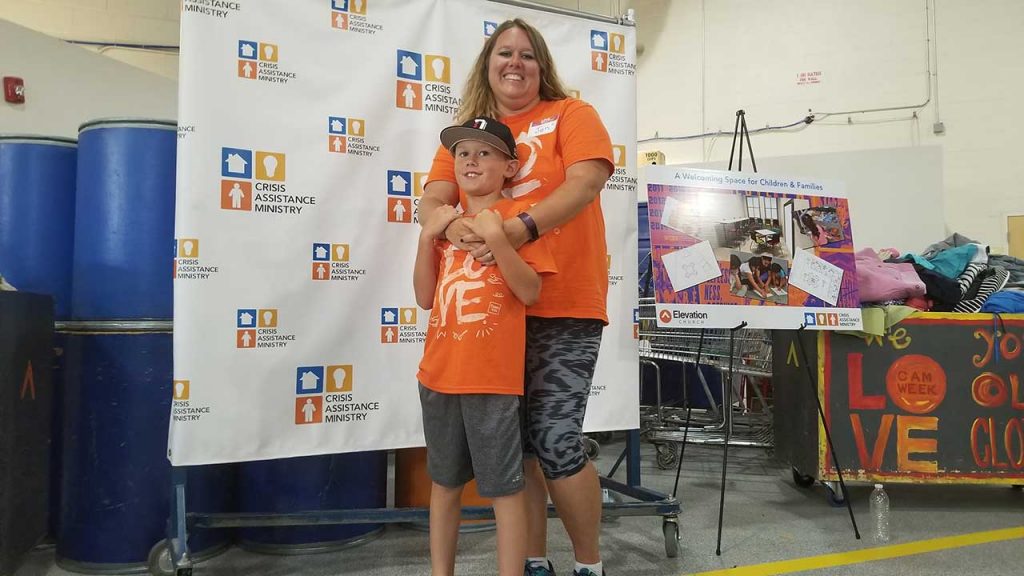 Among them was Jennifer, a Charlotte Mecklenburg Schools teacher, and her son Aiden. Jennifer says she sees the struggles of low-income families face-to-face in her classroom throughout the year. So, when LOVE Week rolls around, she makes it a point to sign up for projects here at Crisis Assistance Ministry.
"I'm just so grateful for the help my kids and their families find here," she says. "So we always serve here as much as possible during the week. My kids look forward to it."
Elevation Church also presented a cash grant to create a Welcoming Space for Families in the agency's lobby. The gift will support a new kid's area and workstations where waiting families can recharge phones or other electronics to stay connected while they seek assistance.
Thanks, Elevation for your longstanding commitment to preventing homelessness and preserving dignity for families served here. We feel the LOVE!