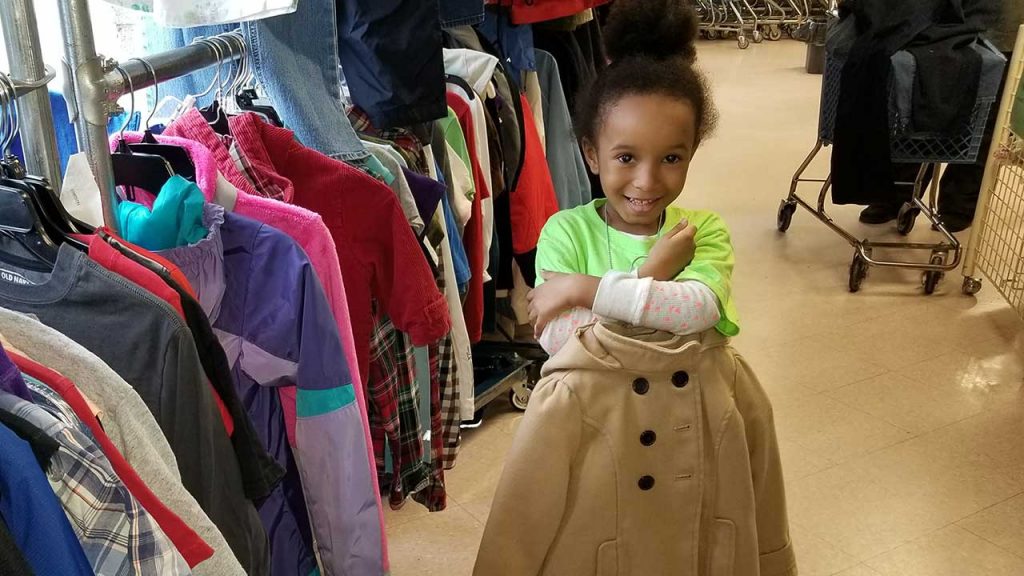 Winter Is Coming
Winter brings increased utility costs with added heating and more hours of the day needing light. Shorter daylight means children are waiting at bus stops in cold, dark morning hours. You can help by donating coats of all sizes for families who shop free-of-charge at Crisis Assistance Ministry.
For low wage earners, the cost of coats can throw a monthly budget way off track and put families at risk for loss of utilities and even the roof over their heads.
Your gift of a warm coat allows families to shop free-of-charge for winter wear while conserving their limited financial resources for other basic needs like rent, utilities, and transportation costs. Something as simple as a winter coat can help prevent homelessness by allowing parents to keep their children warm without putting other needs at risk.
Ways You Can Help
Donate New or Gently Used Coats
Our donation drive-thru is open Tuesday through Saturday for convenient drop off of all types of clothing donations.
Check your closets for gently used coats and other winter gear that might help someone else get through the colder months.
Grab an extra coat or pair of gloves when you are out shopping for your own family.
All sizes and genders are needed from infant to adult.
Hop Online and "Point.Click.Ship" Directly to Crisis Assistance Ministry
Our Winter Wish List allows you to shop online and ship coats directly to Crisis Assistance Ministry for distribution to families in need.
All sizes, genders, color combinations are welcomed.
Coats with hoods are especially good for children.
Contribute to a Coat Drive
Check out coat collection drives like Steve's Coats for Kids.
Or organize your own collection in your neighborhood to make it easier to share the warmth.
Donated items are distributed free-of-charge through Crisis Assistance Ministry's Free Store and community partners to individuals and families who might otherwise do without a coat. With your help, our neighbors will be warm this season.