As with everything in this topsy-turvy year, adaptation was essential as we gathered virtually to celebrate the incredible impact of volunteers on families in financial crisis.
During the video conference celebration, volunteers were honored for their continued commitment to preventing homelessness and preserving dignity even in an ever-changing and challenging environment.
In fiscal year 2020, volunteers collectively contributed over $1 million worth of time and expertise to meeting the basic needs of families in our community. In addition to celebrating this milestone, several special honors were announced by Director of Volunteer Engagement Liz Foster and the agency's staff.
Outstanding Faith Partner
Elevation Outreach was honored as Outstanding Faith Partner. In presenting the award, CEO Carol Hardison celebrated the 11-year partnership that has included providing breakfast or lunch to waiting families, loading and transporting furniture to people regaining stable housing, and, most recently, jumping in to help bridge the gap as COVID impacts changed the way the agency served an increasing need in the community.
Outstanding Community Partner
Tokai Carbon received Outstanding Community Partner honors for their corporate volunteerism and philanthropy. The award recognized the team for proactive engagement in five different events over the past year including building furniture, sorting and inspecting donated goods for the Free Store, and providing breakfast to waiting families.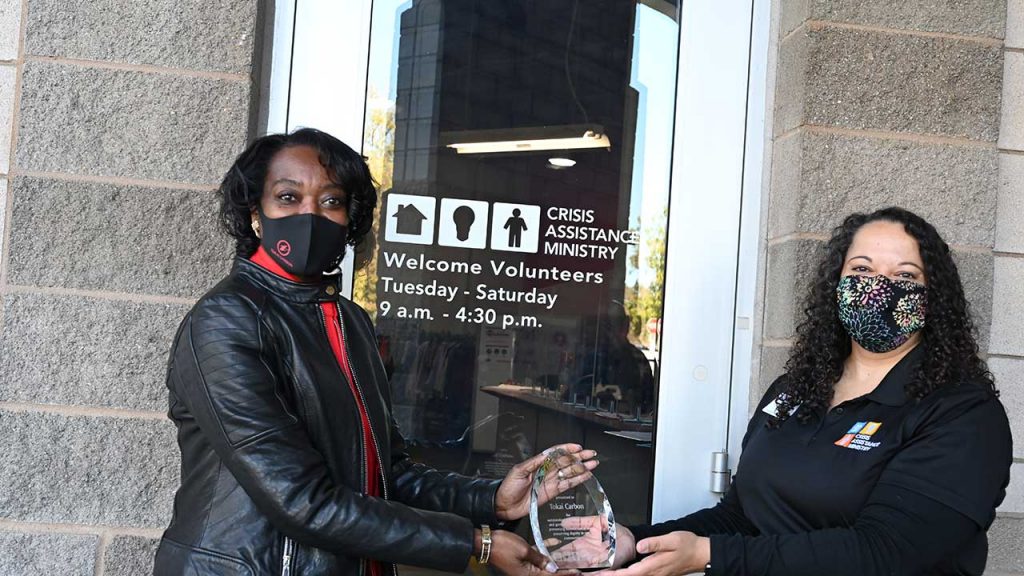 Shirley Henry Outstanding Volunteer
Kurt Brummert was named the 2020 Shirley Henry Outstanding Volunteer, the agency's highest honor for an individual volunteer. In presenting the award, agency staff cited Kurt's long-time dedication as a corporate and individual volunteer in the Free Store Production area. Serving more than 500 hours on his own since 2016, Kurt has rapidly become a "go-to" member of the team — organizing work teams, staffing the donation door, and even spearheading an air conditioner donation drive through his employer, Bank of America.
Volunteer Superlatives
Other volunteers receiving special "superlatives" for stepping up in memorable ways during an usual year:
Delores "Dee" Huey – Most Likely to Save the Day
Jeff Mitchiner – Best Caller Not Saved in Your Contacts
Sharon Towers – Most Adaptable to Changing Times
Sherri Zeigler – Most Persistent, in a Good Way
Sarah Williams – Best Honorary Program Team Member
Even in a pandemic, select volunteer opportunities are still available for individuals and small groups to ensure struggling community members have their basic needs met.