It's the men's suits that get their attention.
Now that COVID-19 restrictions have eased, and volunteers are able to be back in the warehouse full time, Mary Ellen, Kay, Louise, and Georgia, from St. John's Episcopal, will again spend one Wednesday morning each month sorting, inspecting, and preparing donated clothing and household goods destined for the Crisis Assistance Ministry Free Store.
Shoes – 50 pairs just for nine-year volunteer Mary Ellen, and that was before she began matching sizes on a box of sparkly, fur-lined boots. Dresses. Jeans. Dog jackets and sweaters.
"You see cool stuff, and you know all this can make someone feel really good," Louise says. "Sunday dresses for girls… little things that would brighten up somebody's day."
The out-of-season clothing goes into a special space because most important is what's needed right now. Every day, Mecklenburg County families are visiting the Free Store looking for summer essentials, household goods, and more—all free of charge. It's a fast-paced operation, with shifts available Tuesday-Saturday. There's a lot of catching up to do in the city.
"Right now, Charlotte has a lot of need," says volunteer Georgia, who has given her time at the warehouse for about nine years.
There's no way to know, of course, which clothes come from a closet refresh or a move. Still, the men's suits seem to be a giveaway of a change in a family's status—the death of a husband, a grandfather, a brother—the St. John's group speculates, and they take a moment to honor the donation. These suits are almost always impeccably cared for, and they arrive in batches.
The volunteers find the outreach in Charlotte and their personal camaraderie go hand in hand. They usually enjoy a lunchtime fellowship after a shift in the warehouse.
"I'm retired now," says Louise, who has volunteered for about seven years. "When I was working, I was working my butt off. Now I have time, and I love it."
Fellow retiree Kay, who has volunteered for five or six years, feels volunteering is as natural as putting one foot in front of the other.
"You volunteer to help because something needs doing," Kay says, "and you can do it."
It's as simple as that for these friends making their first return to their volunteer roles since March 2020.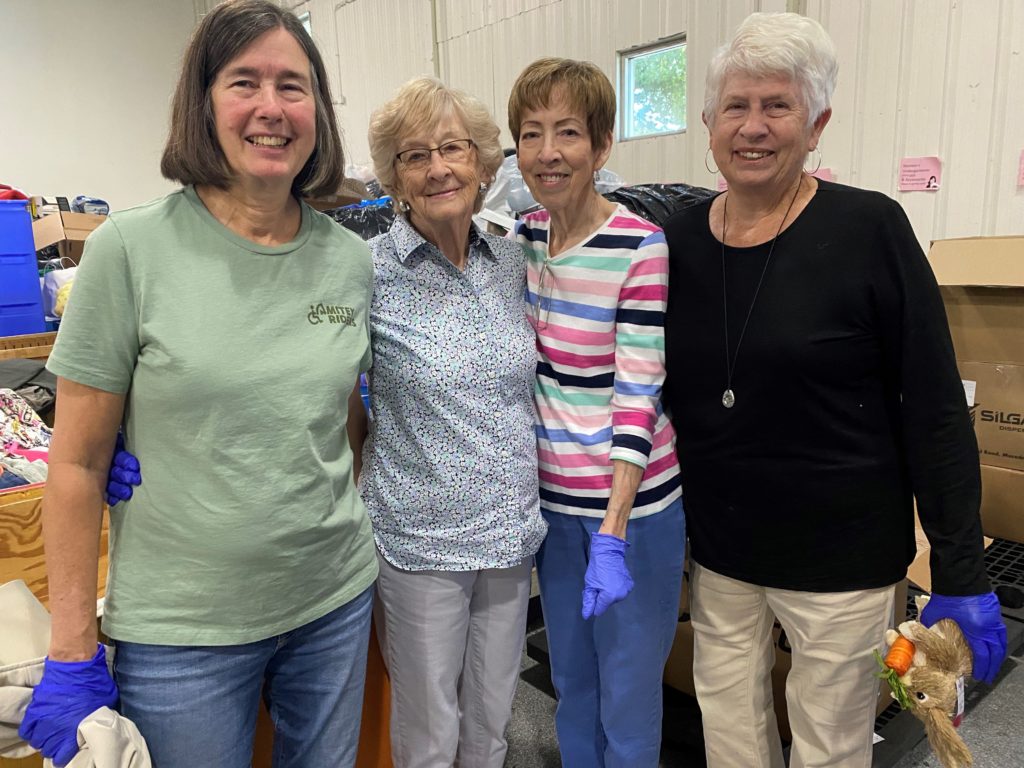 Opportunities to volunteer in person are available Tuesday through Saturday. Individuals and groups, ages 11 and up, can fill a variety of volunteer roles either on or off-site. Check out upcoming needs and claim your next volunteer opportunity with a visit to our volunteer portal.