It's a warm morning in May as the (small but mighty) team from Red Ventures arrives with 100 sausage biscuits, juice, water, willing hearts, and inquisitive minds. They've come not only to serve but to learn.
Before the lobby opens, they quickly set up a refreshment station where families can take along a little nourishment to fuel the rest of their day after dropping off applications for emergency financial assistance.
Next, they head over to the Free Store to stock the racks with donated clothing and household goods for the moms, dads, veterans, college students, seniors, and other struggling neighbors who will shop by appointment for essentials—all free of charge.
According to team lead Katie O'Donovan, "Building Credit is a group of passionate employees within the Red Ventures financial services team that seeks to build awareness of the broad spectrum of financial realities in our country. We wanted to volunteer at Crisis Assistance Ministry to grow a deeper connection to the neighbors it benefits — many of whom have been historically underserved by our industry — in hopes of embedding that empathy into our everyday work."
One group heads into the warehouse to prepare more items for the store. And another trio picks up power tools and gets to work assembling dressers destined for the Furniture & Appliance Store. There, individuals and families overcoming homelessness or other financial crisis are referred by local Partner Agencies for the essentials to make a house a home.
"The most memorable part of my experience was talking with Cary, our volunteer coordinator, about her journey from being in the same shoes as many current Crisis Assistance Ministry customers to a 7-year career there. Cary's experience when she first connected with the organization brought to life the everyday decisions our neighbors are faced with," adds Katie, who herself lives nearby.
"Investing in people's potential is at the heart of Red Ventures' social impact efforts and we love to see success stories of that approach being applied in other organizations."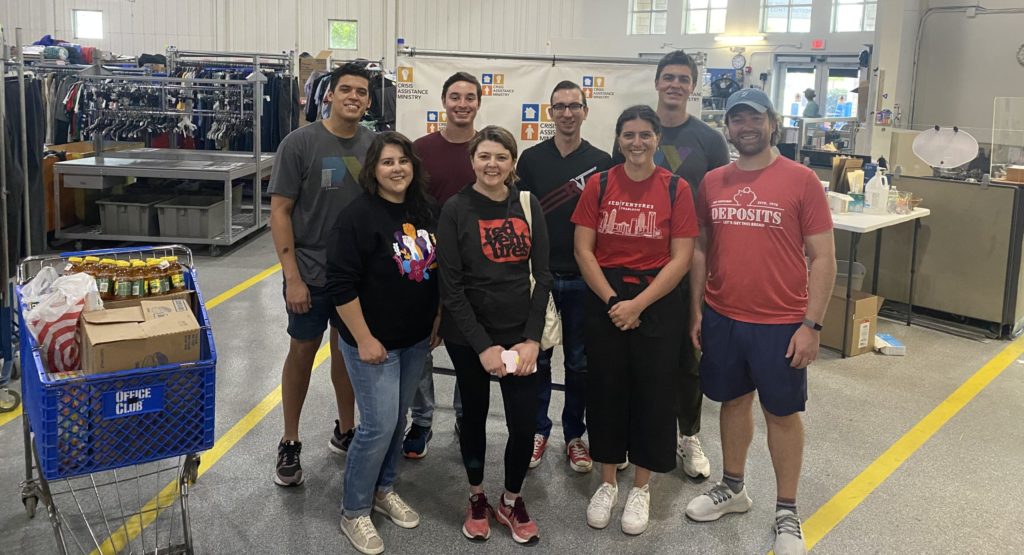 Before their shift ends, the team is already planning their return in June to build kitchen tables and chairs.
Want to get involved?
Volunteer opportunities for teens, adults, and groups of all types are available throughout the year.