March 27, 2023 | CHARLOTTE, NC – Crisis Assistance Ministry announces a new senior leader and a growing team responsible for advancing the agency's mission to provide basic needs during a person's financial crisis while working with them to regain housing stability and financial security.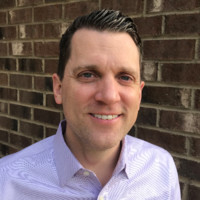 Adam Cline becomes the Chief Advancement Officer responsible for leading all philanthropic activities and will help lead a new chapter in Crisis Assistance Ministry's growth. A recently completed strategic assessment by the Vandever Batten consulting firm made it clear that, with continued growth in the community and the increasing number of citizens lacking affordable housing, community leaders are rallying for expansive growth of the Crisis Assistance Ministry mission.
Cline is a Certified Fund Raising Executive (CFRE) with more than 20 years of experience in nonprofit leadership. From his demonstrated experience as an executive director of a nonprofit agency to his six years at Crisis Assistance Ministry as director of development and, most recently, director of major gifts, he brings a broad background in fund development, marketing, communications, and volunteerism. For example, after initiating the agency's first major gifts program, he helped lead the agency to experience 110% growth in the number of major donors. Cline is sought after for consulting by professional firms and organizations and is active in the Association for Fundraising Professionals Charlotte Chapter. He is a graduate of the PMA Mastermind Program and a current member of Leadership Charlotte Class 44.
"It has always been my honor to work with an amazing team and engage with many generous donors through my work here," said Cline. "I am energized to serve in this new capacity as Crisis Assistance Ministry charts its course for even broader impact and expands economic opportunities for our neighbors."
"I have seen firsthand the results of Adam's expertise and am excited to see him be promoted to this new role," said Mike Davis. "This will only mean great things ahead for the thousands of families who turn here for help, hope, and understanding." Davis will support this new role by expanding his focus on major donor stewardship and planned giving. "Stopping homelessness and financial chaos before it starts is my way of giving a hand up to people who are the backbone of our economy."
"At Crisis Assistance Ministry, we envision a community where all residents have equitable access to live stably and pursue their dream for a brighter future," said Carol Hardison, chief executive officer. "Adam will oversee all donations of time, talent, and treasure. From donated work boots to family foundation giving, from volunteers wanting to make a difference to faith partners and individuals financially investing in this mission, he will ensure philanthropic impact is created and shared far and wide."
Two new positions will be filled to support this new function. The Director of Marketing and the Annual Giving Manager roles are currently being recruited to be part of a diverse, innovative, and growing team.