"If you face a challenge, it's ok. You can overcome that challenge and you can be better because of it."

– Deborah
Those are the words of an inspiring neighbor named Deborah who we have come to know over the past few years.
Here's the story of how Deborah found help to overcome a daunting set of challenges and emerged with a renewed sense of purpose: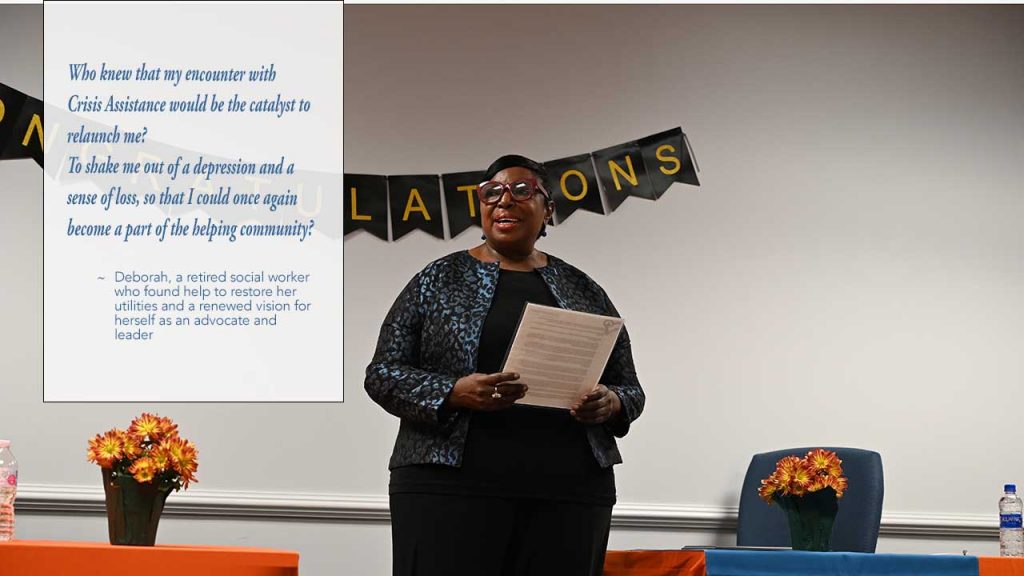 After watching dementia slowly take her mother, battling her own depression, and ultimately retiring due to health difficulties, things got hard for Deborah. Loss of income and grief overtook her, and before long she was, in her own words, "sitting alone in the dark, with no lights, no food, and too much pride to ask anyone for help."
That's when the master's prepared social worker found herself somewhere she never imagined: sitting across the desk from another social worker, seeking help to dig herself out. There, she remembers being met with kindness, concern, and hope.
After resolving her crisis (with a little help from you), Deborah completed an 8-week course to become a Customer Advocate and began volunteering—sharing her time, expertise, and her own experiences. She is living into a renewed sense of purpose as an advocate for herself, her neighbors, and her community.
"Sharing is my way of giving back to the Charlotte community," Deborah says, "and my way of allowing people who are generous enough to give to Crisis Assistance the opportunity to speak with one of the many people they have helped."
In fact, Deborah is one of the newest members of Crisis Assistance Ministry's Board of Directors. She provides an important point of view alongside other community leaders who ensure we fulfill our mission: to provide assistance and advocacy for people in financial crisis, helping them move toward self-sufficiency.
"The takeaway from my experiences would be to always remember that we need each other. Today you may be sitting on one side of the desk. Tomorrow you may be on the other side – everything is subject to change," Deborah adds. "When you can help someone else, just don't miss that opportunity."
Can you help us help more neighbors like Deborah?
Right now, your gift can help more of our neighbors overcome the challenges facing them with the help of these Charlotte leaders:
Howard and Julie Levine-Howard R. Levine Foundation
Anna & Ed McMahan
Kasey & Stuart Proffitt
They will match every gift, dollar-for-dollar, between now and May 31, 2023 (up to $500,000). Thanks to their generosity, your contribution will have DOUBLE the impact — go further — do more — and help more hardworking families right here in our own community.
By answering their Challenge, you can help more neighbors like Deborah achieve housing stability and economic empowerment.