Meet Our Volunteers
More than 1/4 of the work of Crisis Assistance Ministry is performed by caring community volunteers.
Here are a few of their stories: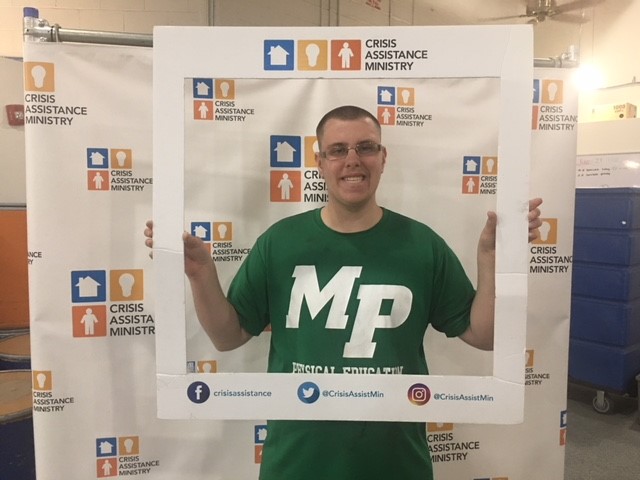 Jonathan
Jonathan began working in the Free Store Production area six months ago in order to earn 250 service hours for his high school diploma.
Each day, he brought a dedicated, positive spirit; often lifting the spirits of those who served around him. Jonathan knows the warehouse inside and out. He tackles all jobs he is assigned with excellence, including replenishing size tags, unloading and sorting bulk toiletry items, resetting workstations, hanging school uniforms, and occasionally helping to greet volunteers.
What's so special about Jonathan is that even after he completed 250 hours of service he has continued to volunteer full-time. We are so grateful for his support!
Ruby Laws
Ruby Laws began volunteering a little over a year ago helping to prepare donated goods for families who shop here free-of-charge. She comes in faithfully every Tuesday and Thursday with a companion. Ruby comes in each day with an enthusiastic, determined spirit, eager to learn and excel at all tasks within this area of the agency.

She is an absolute dream when it comes to processing pallets of new household items received from an agency partner. Ruby diligently unloads each pallet in an organized manner. She has even been known to stay past her scheduled time, simply to complete the task 100%! We are so thankful for the direct impact Ruby makes on individuals and families shopping here each week.
Christine Eckert
Christine Eckert became an agency volunteer through the faith community at Elevation Church over 6 years ago. She has participated in every volunteer project offered, from inspecting donated goods to moving chronically homeless individuals into housing.
Christine is in constant communication with the Volunteer Team here about upcoming projects she wants to set up. She works tirelessly advocating for projects to be accepted during Elevation's annual service event, Love Week and hosts a handful of events herself. Her joy & the energy she brings to each event is contagious! We are so grateful to have an amazing advocate like Christine working to better our community.
Jackie Little
Jackie Little learned about agency volunteer opportunities while donating her late husband's clothing. She began volunteering in the Free Store over a year ago, consistently offering her support every Tuesday afternoon. Her recent nomination reads, in part, "Free Store customers adore Jackie for her hard work and upbeat attitude."
Jackie is not only a diligent worker, helping customers and keeping shelves in the Free Store stocked, but she is an advocate. She loves to recruit friends to volunteer with the agency and join in on her efforts!
Mardi McMakin
For the past seven and a half years, Mardi McMakin has been serving as a volunteer greeter for our satellite location at the Ada Jenkins Center in Davidson. Each week Mardi comes in faithfully to assist our customers living in the northern part of Mecklenburg County. She makes customers feel welcomed and puts them at ease at a time when they are stressed and anxious. She helps organize and prepare their documents and reassures waiting families with her calm, easy going demeanor.
Her nominator wrote: "She is one of the volunteers who keep our presence strong and operations running smoothly at the Ada Jenkins Center. She even gives great hugs to anyone who needs them!"
Thank you, Mardi, for going the extra mile to help struggling families stay housed with their utilities flowing.
Jean Cossart
Twenty years ago, volunteer Jean Cossart (pictured right) used a ledger and an ink pen to write checks to utility vendors on behalf of families in need. Today, she still helps make sure families can stay in their homes and that checks get credited properly to customers in need. The tools, however, are very different. Jean recently earned certification to work in our new customer database and continues to serve in the Business Office every week with grace, kindness, and patience. Business Office Manager Shannon Hammer (pictured left) describes her as "a pleasure to work with because of her outstanding performance, commitment dedication, self-sacrifice, dignity, and generosity of time and spirit." For twenty years of service to this community, Jean was recently recognized as volunteer of the month at Crisis Assistance Ministry!
Thank you all for your commitment to preventing homelessness and preserving dignity.