For most Americans, Labor Day evokes parades, backyard barbecues, and the unofficial end of summer. But the laid-back holiday we observe today is a far cry from the original "workingman's holiday" that grew out of a particularly tumultuous era in our history.
Labor Day 2020, coming as it does amid another precarious period in our nation, is a fitting time to re-examine the holiday's activist roots and reimagine its meaning today.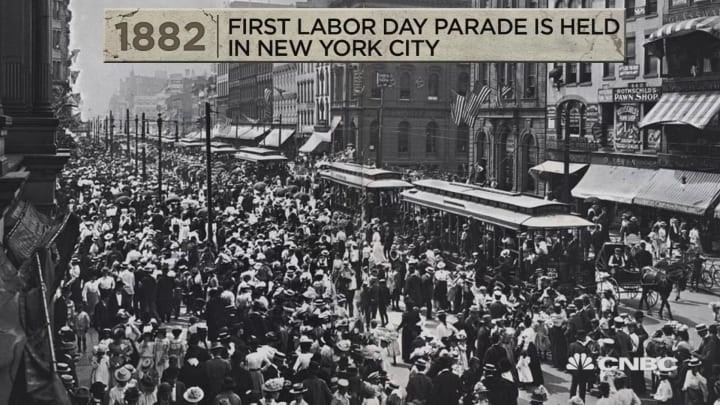 When the first Labor Day parade stepped off on a September day in 1882, 10,000 workers risked their jobs to march through New York City, demanding "Less Work and More Pay"1. While it didn't become a national holiday until over a decade later, the event's organizers envisioned an annual day of solidarity among workers across all industries.
Labor movement organizers were in full swing back then, rallying, striking, and sometimes dying in protest of unconscionable working conditions. Those efforts eventually secured many of the standards we now take for granted, including the 8-hour workday, a federal minimum wage, and the abolition of forced child labor.
And while workers today are indebted to those pioneers who laid the groundwork for improved conditions, this Labor Day reminds us that the fight to ensure that all workers have the dignity of safe working conditions and a fair wage is far from over.
The economic devastation wrought by COVID-19 has laid bare persistent inequities that have too-often been camouflaged by low overall unemployment and a booming stock market. Among them:
Large sectors of the workforce are not adequately protected, including those who labor in service industries, childcare, and home health. These front-line workers are among the lowest paid, are disproportionately women and people of color, and often lack paid time off and health insurance.
Pandemic-related job loss has devastated the livelihood of many people of color at the same time the coronavirus has threatened their very lives. Since February, Black and Hispanic Americans have lost their jobs at a rate of 1.4 times that of white Americans2. These groups are also more than 4.5 times more likely to be hospitalized for COVID-19 than their white counterparts3.
Economic recovery from the pandemic is likely to exacerbate the existent disparities. Traditionally, recovery after an economic downturn has been described using letters of the alphabet: "V"-shaped for a sudden drop followed by a rapid recovery, "U" for an economy that drags along at the bottom before rising again; "L" for a drop followed by a prolonged recession, or "W" for a more volatile pattern. But some experts are now predicting a "K"-shaped recovery, in which the most privileged among us quickly regain lost ground and reach even greater wealth while the most vulnerable fall further behind.
What has been catastrophic for millions has been a windfall for some. Since March 18, American billionaires have increased their combined wealth to more than $3.65 trillion4. According to the Brookings Institution, the top 1% of American families now holds more wealth than the entire middle class5.
And the middle class is shrinking. The concentration of gains at the top of the economic ladder and losses at the bottom accelerate a decades-long trend. From 1971 to 2019, the percentage of adults with middle incomes has shrunk from 61% to 51%, while those in the lower income and upper income tiers increased by 4% and 6%, respectively6.
Labor Day this year, stripped of its traditional big parades and large-scale gatherings, offers a time of reflection. How can we ensure that all workers have access to safe working conditions, adequate health care, and fair wages? Our foremothers and forefathers in the labor movement left a powerful legacy: Collective action as the path to meaningful and lasting change. We may not be able to march shoulder-to-shoulder right now, but we can work together to create a nation where everyone has the opportunity to thrive.
1 "What is Labor Day? A History of the Workers' Holiday", New York Times, September 1, 2018.
2 "Unemployment and Income Have Long Differed by Race. Coronavirus hasn't helped", USA Facts, August 7, 2020.
3 "COVID-19 Hospitalization and Death by Race/Ethnicity", Centers for Disease Control and Prevention, August 18, 2020.
4 "Making Billions v Making Ends Meet: How the Pandemic has Split the US Economy in Two", The Guardian, August 16, 2020.
5 "Charts of the Week: Americans' Wealth and Debt", Brookings Institution, July 12, 2019.
6 "6 Facts About Economic Inequality in the U.S.", Pew Research Center, February 7, 2020.