You may have noticed the Charity Navigator: Four Star Charity badge at the bottom of our pages. It looks something like this:

But what exactly does it mean?
The Charity Navigator database was created in 2001 with the goal of creating a world where philanthropy is inclusive, vibrant, and effective. Today, they are the gold standard in accessing the financial health, accountability, and transparency of charities. Their rating system dramatically improves the quality of information available to charitable givers and helps them make more informed decisions.
Their 4-star rating scale corresponds to the following rubric: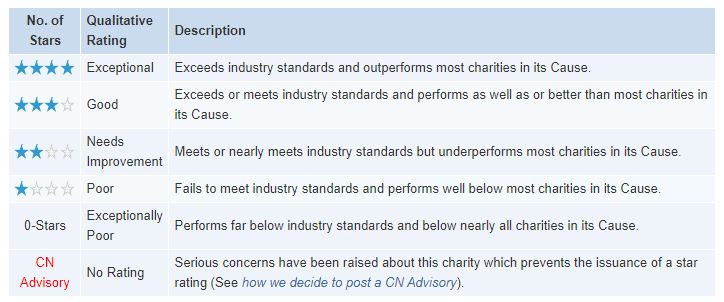 The highest possible rating by Charity Navigator illustrates Crisis Assistance Ministry's commitment to accountability and transparency and highlights how we pursue our mission in a fiscally responsible way. Only one-quarter of evaluated charities receive this distinction, so we don't take this honor lightly.
We're proud to have earned this designation, and will work to continue to earn your trust and commitment. Thank you for all the work you do each day to support Crisis Assistance Ministry; we couldn't have done this without you.
More on Charity Navigator's Methodology can be found here.