The Supplemental Nutritional Assistance Program (SNAP) is one of the most important social service programs in the United States, keeping millions of lower-income families above the poverty line while reducing levels of food insecurity. The program was expanded in 2020 at the onset of the pandemic.
Now that those additional benefits have ended, hunger-fighting groups expect a surge in demand at food banks and warn that SNAP recipients may fall back into poverty. Many of the people served at Crisis Assistance Ministry rely heavily on SNAP to keep food on their tables, so we are very concerned about the impact of reduced benefits for those families.
SNAP Emergency Allotments
In March 2020, as the pandemic began, Congress unanimously passed SNAP Emergency Allotments (EAs), which increased the amount of benefits SNAP recipients received each month. The importance of this benefit increase cannot be overstated – one study estimated that the EAs kept 4.2 million Americans above the poverty line in the final quarter of 2021, reducing child poverty by 14% and overall poverty by 10%.
Unfortunately, these allotments, which were still active in 35 states (including North Carolina). expired at the end of February, resulting in the average SNAP recipient receiving $90 less in benefits per month. That means SNAP benefits in 2023 will only be $6.10 per person per day on average – further squeezing the pockets of those who are struggling to make ends meet, especially after food prices increased by 9.5% during 2022.
Food Bank Demand Increase
The likely result of this benefit loss will be a surge in demand at our local food banks. States that ended the emergency allotments last year have already seen that impact. After Georgia ended the expanded SNAP benefits in June 2022, the Atlanta Community Food Bank saw a 40% increase in demand at their pantries. Similarly, after Iowa ended the emergency allotments in April 2022, the Northeast Iowa Food Bank reported a 30% increase in overall demand, with some other food pantries seeing the number of people visiting their locations quadruple.
Here in North Carolina, we are likely to see similar surges in demand over the coming months. Food banks like our neighbors at Second Harvest Food Bank of Metrolina do remarkable work; however, even the most dedicated hunger-fighting organizations can become overwhelmed by a surge of people searching for the most basic of needs, food for their families. And as more people are pushed further into poverty by reduced SNAP benefits, many will struggle to keep up with their rent and utilities, driving them to seek the support of Crisis Assistance Ministry.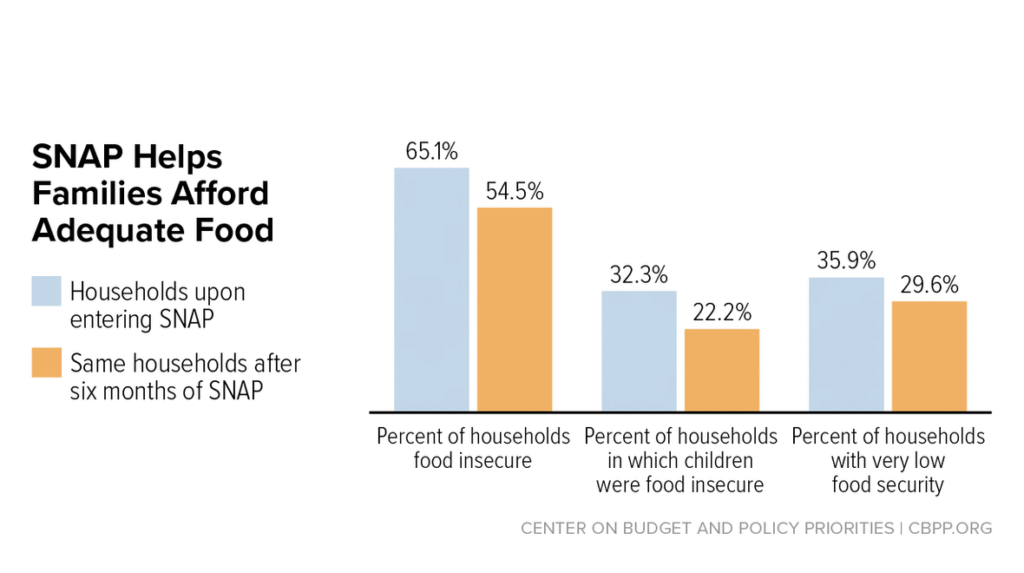 SNAP's Positive Impact
The research showing SNAP's value is extensive. One study estimated, through Census data, that the program kept a total of 8.4 million people out of poverty in 2015. SNAP also has positive effects on food insecurity, with participation in the program for 6 months being associated with a 5-10% decrease in food insecurity. Not only is SNAP beneficial to its recipients, but it also has a positive economic impact on the community as a whole, generating $1.79 in economic activity for every $1.00 in SNAP benefits allocated.
With such a large body of research documenting the positive impact of SNAP, we at Crisis Assistance Ministry believe the focus should be on expanding the program, not scaling benefits back. For the people we serve, a strong social safety net is often the lifeline that carries them through a financial crisis and on to economic stability.