For Pulitzer Prize-winning author and sociologist Matthew Desmond, the answer is YES!
During his recent visit to Charlotte-Mecklenburg, Desmond brought both data and passion to the discussion of why America is one of the richest nations on earth, yet has "more poverty than any other advanced democracy."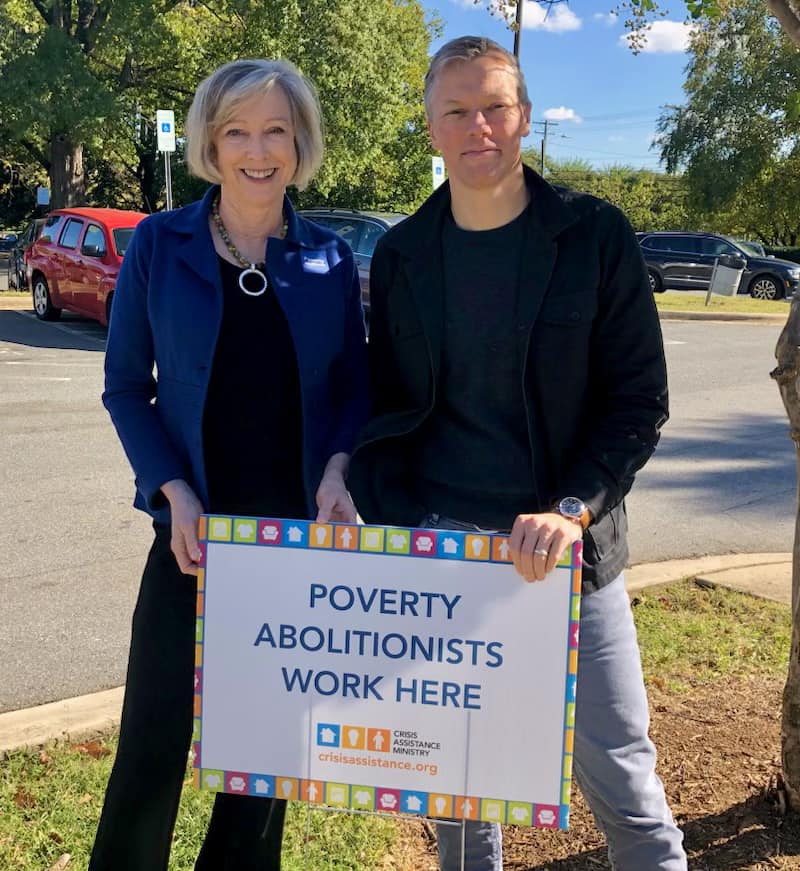 With compelling data, he explained why his research shows poverty persists and thoroughly dispelled the notion that ending poverty is unaffordable.
"I'm asked what I think the biggest myth about poverty is. I always say that we have to live with it, that it's like the normal state of affairs. Our ambitions have become very boring, you know, and defeatist," said Desmond as he spoke to a small group of changemakers at Crisis Assistance Ministry before his evening keynote at Davidson College.
He offered examples of efforts that worked to reduce poverty, including the expanded child tax credit during the pandemic that cut child poverty in half during the brief time it was implemented. Yet, he says, people did not celebrate that small step forward, so lawmakers let it expire without much fanfare. If government programs like that can and do work, why does poverty persist, he asked?
Why Does Poverty Persist?
One reason: a good bit of government aid intended to reduce the impact of poverty does not reach people who need it most. There is little evidence that welfare dependence is prevalent, Desmond said. Rather, welfare avoidance is much more common.
What's more, the United States spends exponentially higher amounts on tax breaks and other subsidies for the affluent than we do to fight poverty. In fact, Desmond's research reveals that top 20% of U.S. families receive 40% more in government subsidies than the poorest 20%.
Equally important for Desmond is the continued exploitation of the poor by labor, housing, and financial markets. Low-wage workers often have to work multiple jobs to afford basics. Here, Desmond points the finger for the persistence of poverty directly at middle and upper-class taxpayers along with corporate monoliths.
"I think there's so much poverty here not in spite of our affluence but because of it," Desmond proclaimed.
Becoming Poverty Abolitionists
Desmond charged listeners to become "poverty abolitionists" by "recognizing that profiting from others' pain corrupts us all." To do so means pushing those in power to begin to do three big things:
INVEST in families by rebalancing the safety net to ensure families can access help when it's needed, to streamline the processes that administer that aid, and to divest from the systems that can keep people away from aid.
EMPOWER the poor by reining in exploitation with a mass movement for economic justice that champions labor changes and sectoral bargaining.
BUILD inclusive and open communities that allow low-wage earners to actually access home ownership while replacing exclusionary zoning laws with inclusionary laws to tear down the (literal and figurative) walls that force economic segregation.
He offers detailed ideas and compiles powerful data on his national website End Poverty in America which offers this fact sheet about poverty and economic justice in North Carolina.
Desmond's message is clear and repeated on that site: "Poverty will be abolished in America only when a mass movement demands it so."
To the audience of 600 individuals who gathered at the Belk Family Performance Hall on the campus of Davidson College to hear his keynote address, he closed with a critical question about the abolition of poverty: "Why settle for anything less?"
Learn More