"I'm independent and I don't like asking for help. But I got the disease and it just stopped me," said Myron, reflecting on what led him to seek assistance at Crisis Assistance Ministry. "It's surprising when a disease hits you so sudden. It's like, boom!"
Kidney failure, the disease that struck Myron so hard, is robbing him of his independence.  He had to stop working several years ago and now much of his time is spent hooked up to a dialysis machine. A kidney transplant is a fading option, he says. "I'm getting too old. It has to be an exact match."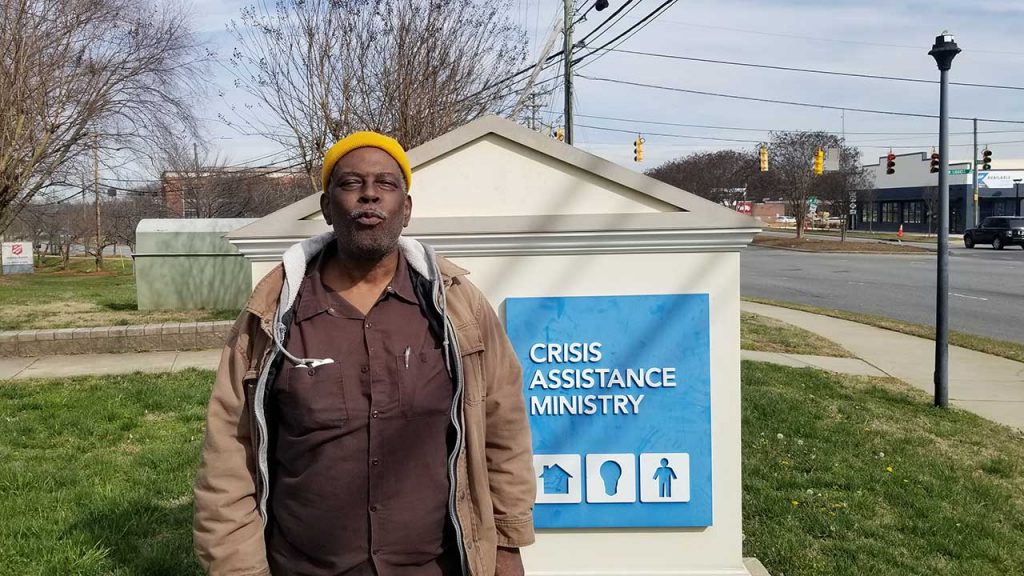 Myron and his brother Michael share a small house in east Charlotte. For most of the five years they've lived there, they've been without heat or hot water. With both brothers on fixed Social Security income, hard choices are faced each month. Sometimes they're forced to choose between buying life-saving medicines or paying the utility bills. 
About six months after moving into their home, when the weather warmed up in the spring, the brothers decided to eliminate one bill and let the gas get turned off. "We had to heat water on the stove for a quick wash-up in the sink," Myron recalls. And when winter rolled around again, "We were heating the house with the electric stove."
This winter, Myron simply couldn't do without heat any longer. The kidney failure has led to anemia, among other complications, and the constant cold both inside and outside the house was unbearable. The past-due gas bill, along with a large security deposit and reconnection fee, added up to an overwhelming amount. On top of that, years of using the stove for heat had led to an extremely high electric bill as well.
Fortunately, after talking through the situation with a caseworker at Crisis Assistance Ministry, Myron and Michael received the good news that funds were available to restore gas service and prevent the disconnection of electricity.
"I didn't know how I was going to pay. It's good I got help," Myron said.
And the day the gas was reconnected was even better. "I felt good because I could take a shower. And I could wash my clothes in hot water," Myron said with a smile. "That's a blessing."
As Myron fights kidney disease, your generosity restored his utilities and extended him the dignity of a hot shower in the midst of his struggles. Thank you.